About British Corner Shop®
British Corner Shop is the online grocery store for British expats around the world. Whether you miss Marmite or crave Warburtons crumpets, we can deliver your British favourites straight to your door.
Our website stocks over 6,000 products from Britain's most loved brands, meaning you can enjoy the British food you miss, wherever you are in the world.
Why choose British Corner Shop?
Customer service is at the heart of our business. Since our humble beginnings in 1999, we have refined and developed British Corner Shop, building on the wants and needs of our loyal customers.
From purchasing your shopping through to the delivery, we want our customers to have total confidence when ordering with us. Why not take a look at what our customers have to say about our service.
Accreditations and reviews
British Corner Shop is a trusted international brand, winners of the Queen's Award for Enterprise (International Trade), Fast Track 100 awards, FSB Business Awards and regional business awards.
You don't have to be a British expat to use our service
If you have friends or relatives overseas who may be missing the taste of home, why not order them a box of British happiness? Our service is perfect for sending parcels of British food to Brits in the Armed Forces and others working abroad.
Shopping with us
Our process makes it simple for you to order your British groceries.
Shop online
Choose the products you want to order by visiting the 'shop' section of the website. You can browse by brand, category or search for particular products.
Optimise for cost effective delivery
The optimiser tab lets you see at a glance how much space is left in your basket, so you are always in control of the shipping. The fuller your box, the more cost effective the delivery. If your box is only half full, you can add extra items, for no extra delivery cost.
Wrapped and packed securely
Once confirmed, your order gets processed. Every item is securely wrapped by hand, by our team of expert packers. Breakable products are given extra protection, and for tins and other easily damaged products, we have developed effective ways to minimise the risk of damage in transit.
Global delivery
We can ship your order worldwide. Most European orders reach their destination in 4 to 8 working days, and between 7 to 12 working days for non-EU countries. You can track your order through your British Corner Shop account, simply by clicking on the 'view order' button. All orders are fully insured, and our friendly customer service team is ready to answer any queries you may have, at any stage of the order process.
The South West's Most Exciting Companies!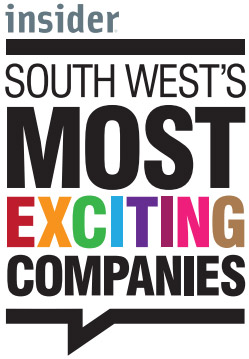 British Corner Shop was recently voted as one of the most exciting companies in the South West region of the UK, by Insider Magazine.
The shortlist includes companies who are innovating in their fields, have a buzz about them, and have the greatest potential to being about long term change.
British Corner Shop has been growing rapidly in recent years, developing into 'The British Brand Export Platform' that can catapult British Brands onto a global stage.
With British Corner Shop, an emerging British food or drink brand can access global markets easily, both direct to consumer and via large wholesale opportunities that British Corner Shop brings via it's global network of importers, distributors and retail chains.
British Corner Shop's employees are at the heart of it's success. There is a positive 'can-do' culture, and an energy about the team which create an exciting working environment, and un-stoppable success!
Become a Supplier
British Corner Shop is a Department for International Trade 'Export Champion', and offers a unique export platform to UK suppliers of food and drink products. Listing on British Corner Shop will make your products available to a large international customer base.
To express your interest in becoming a supplier, please complete this form.
Start Shopping
Liking us so far? Start Shopping for 6,000 of your favourite British Brands.