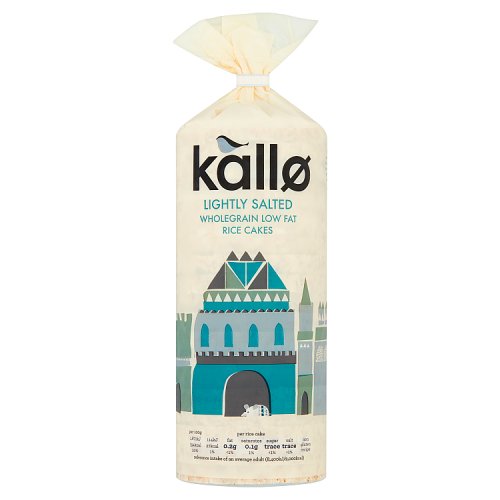 Short Life

60+

Days at dispatch
date
Kallo Lightly Salted Low Fat Rice Cakes
Brand: Kallo
Weight: 130g
Product information
Kallo Low Fat Thick Slice Rice Cakes are a great option if you are looking for a low fat alternative to bread. They are also suitable for vegetarians, vegans and anyone with wheat or gluten intolerance.
Simply add a low fat topping and you will have tasty and ultra-healthy lunch! Perfect for slimmers or anyone looking to watch their weight.
Most popular with customers in Sweden, Spain and Czech Republic, but you can buy Kallo Lightly Salted Low Fat Rice Cakes for delivery worldwide.
One of our Kallo branded products. Take advantage of our current sale discount, saving you £0.70. This item typically has a short best before date of 60 days from time of dispatch.
Allergy Advice
May Contain Milk, May Contain Sesame, May Contain Soya.
Ingredients
Wholegrain Rice (99.8%), Sea Salt.
Lifestyle / Additives
Gluten free, Low Fat, Suitable for Vegans, Suitable for Vegetarians.
Storage Instructions
Storage Type: Ambient.
Store in a cool, dry place. Once opened keep in an airtight container and enjoy within 14 days.
Pack Type: Wrap.
Product reviews
I love rice cakes but they need to be good quality otherwise they are nothing more than just cardboard. Kallo is a brand you can trust when it comes to rice cakes. They are also slightly salted which make them super tasty as well as being very healthy. They are delicious eaten as such or with some spread on it.
These are some of the best rice cakes you can buy. Nice and thick, yet still crispy. These are perfect for spreading with houmous, you could also spread them with marmite or a sweet filling like chocolate spread. Wrap these in cling film and they make a perfect on the go snack.
Would you like to write a review for Kallo Lightly Salted Low Fat Rice Cakes?
You'll need to be registered and logged in to write a review.
Did you know that you could earn £0.30 in Reward Points for every Product review of 50 words or more that you write. Find out more.
Are you a Trade Customer?
Please get in touch if you are interested in pallet or container volumes of this product.
A member of our wholesale team will be in touch with you.
Enquire Now
Award Winning Exporter
British Corner Shop are proud winners of the Queen's Award for International Trade, and Sunday Times Fast Track 100.
We are also a Waitrose official stockist.
More About Us