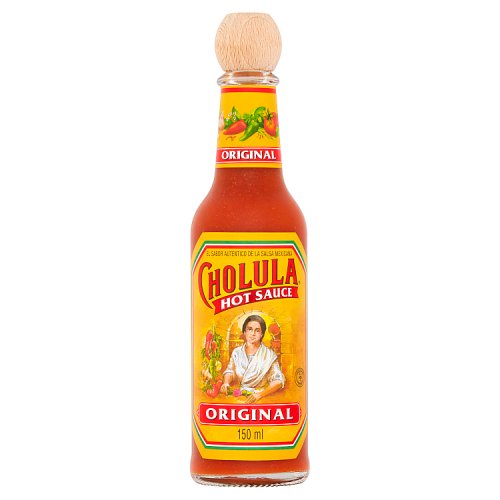 Short Life

62+

Days at dispatch
date
Cholula Hot Mexican Sauce
Product information
Cholula Hot Mexican Sauce is full of fun, fire and flavour. This exquisite hot sauce has the unique ability to enhance the flavours in your food without overpowering them.
Use this fiery sauce to add that extra little splash of flavour to pretty much any food. Why not try adding a few drops to pizzas, soups, omelettes? It can also be used to help make a spicy dip.
Most popular with customers in Netherlands, UK - England, Korea Republic of and Austria, but you can buy Cholula Hot Mexican Sauce for delivery worldwide.
One of our Cholula branded products. This item typically has a short best before date of 62 days from time of dispatch.
Ingredients
Water, Dried Chili Peppers (5.0%) (Arbol & Piquin), Salt, Vinegar Blend (Spirit Vinegar, Cider Vinegar), Spices, Stabiliser (Xanthan Gum).
Lifestyle / Additives
Kosher, Suitable for Vegans, Suitable for Vegetarians.
Storage Instructions
Storage Type: Ambient.
For Best Before See Neck of Bottle
Pack Type: Bottle.
Product reviews
Be the first to write a review about Cholula Hot Mexican Sauce.
Would you like to write a review for Cholula Hot Mexican Sauce?
You'll need to be registered and logged in to write a review.
Did you know that you could earn £0.30 in Reward Points for every Product review of 50 words or more that you write. Find out more.
Are you a Trade Customer?
Please get in touch if you are interested in pallet or container volumes of this product.
A member of our wholesale team will be in touch with you.
Enquire Now
Award Winning Exporter
British Corner Shop are proud winners of the Queen's Award for International Trade, and Sunday Times Fast Track 100.
We are also a Waitrose official stockist.
More About Us