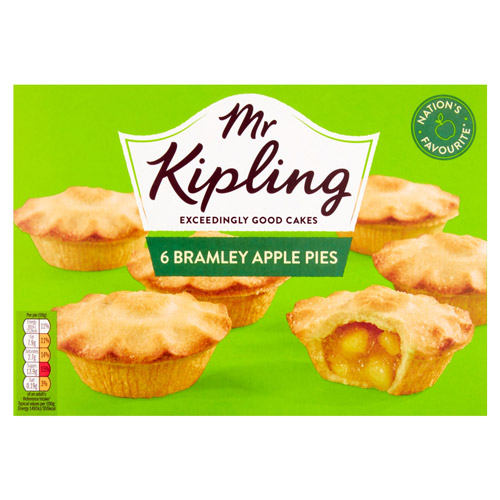 Short Life

7+

Days at dispatch
date
Mr Kipling Bramley Apple Pies 6 Pack
Product information
Containing real chunks of Bramley apple, Mr Kipling Bramley Apple Pies are indeed exceedingly good. They can be eaten cold, or heated up and enjoyed with custard or cream if you are feeling particularly naughty.
These delicious pastry pies are made using melt-in-the-mouth pastry, complete with a pastry apple on the top and a dusting of sugar to add the finishing touch.
Apple pie lovers should look no further than Mr Kipling Bramley Apple Pies. This 6 pack will keep the whole family happy!
Most popular with customers in France, United States of America (USA), Italy, Spain, Germany, Netherlands, Canada, Sweden and Korea Republic of, but you can buy Mr Kipling Bramley Apple Pies 6 Pack for delivery worldwide.
One of our Mr Kipling branded products.. This item typically has a short best before date of 7 days from time of dispatch.
Allergy Advice
Contains Milk, May Contain Nuts, Contains Sulphur Dioxide/Sulphites, Contains Wheat.
Ingredients
Wheat Flour (with added Calcium, Iron, Niacin, Thiamin), Sugar, Diced Bramley Apple, Vegetable Oils (Palm, Rapeseed), Bramley Apple Purée, Glucose Syrup, Dextrose, Humectant (Vegetable Glycerine), Modified Maize Starch, Salt, Acid (Malic Acid), Raising Agents (Disodium Diphosphate, Sodium Bicarbonate), Preservatives (Potassium Sorbate, Sodium Metabisulphite (Sulphites), Sulphur Dioxide), Flavouring, Milk Proteins, Whey Powder (Milk).
Lifestyle / Additives
Free From Artificial Colours.
Suitable for Vegetarians.
Storage Instructions
Storage Type: Ambient.
Best stored in a cool, dry place
Pack Type: Box.
Product reviews
These little apple pies by Mr kipling are real treat and one of my favourite products from Mr kipling comapny. They are not much sweet, with amazing apple filling. They are very tasty. It is great value for money too. I recommend this product. Thank you British corner shop for providing quality products.
As one who is very fond of her own homemade short crust pastry, I have to say that I was quite impressed with Mr Kiplings Bramley apple pies. Not as good as homemade as far as pastry goes, but nevertheless quite delicious. The apple filling is sharp and just sweet enough. Excellent quality price ratio and another winner by Mr. Kipling!
Doesn't matter what product Mr Kipling produces, you can rely on them for taste and quality. Bramley apples are THE variety when it comes to apple pie so combine that with Mr Kipling and you have an outstanding apple pie - sharp and fruity with a homely pastry casing.
These are soooooo gooooood. I had forgotten how yummy they are. I really blew it as I should have ordered more than just one box. I will not make the same mistake again. They say they are the best selling apple pie in Britain and I can believe that.
Also, I was advised that they had a short date but they actually came with a couple of weeks for the best by date so I was lucky....got to go eat some more......
These pies are very crumbly and the pastry melts in the mouth. The pies have a good amount of filling which is a little bit on the sweet side. As for the price, I would say they are very good value but I live in Sweden where pastries and cakes cost quite a lot.
Referring to Liams review I would have to agree about the price being a little to high. They are now over 50 cents a pie! But if you want to order pies from abroad then these are some of the best non home made apple pies you will find. I'm hoping they keep a little longer that a few days in the fridge!
These apple pies combine a very buttery and crumbly pastry with a rich, tangy filling of crunchy Bramley apple pieces.
They can be enjoyed cold with a nice cup of tea, or warmed up in the oven and served with ice cream. The only negative point is the price, which is quite high as it costs nearly 50 cents (Euro) per pie.
Would you like to write a review for Mr Kipling Bramley Apple Pies 6 Pack?
You'll need to be registered and logged in to write a review.
Did you know that you could earn £0.30 in Reward Points for every Product review of 50 words or more that you write. Find out more.
Are you a Trade Customer?
Please get in touch if you are interested in pallet or container volumes of this product.
A member of our wholesale team will be in touch with you.
Enquire Now
Become a Supplier
British Corner Shop has partnered with the UK Government (DIT), to be an export platform for UK suppliers.
Make your food and drink products available internationally.
Enquire now