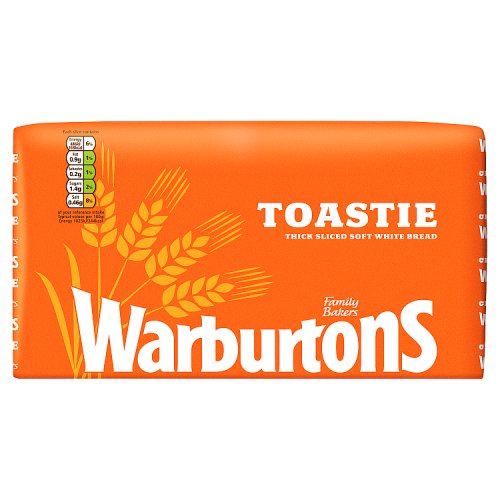 Short Life

4+

Days at dispatch
date
Warburtons Toastie White Bread
Product information
The smell of toast in the morning is the official wake up call for millions of people worldwide, but Warbutons Toastie is the bread of choice for toast connoisseurs.
Thick slices of white bread has been specifically baked for your toasted bread fix, perfect for breakfast or a snack any time of the day.
Whether you go mental for Marmite, crazy for crunchy peanut butter or j'adore jam on your toast, this is the bread for you!
Most popular with customers in United States of America (USA), France, Italy, Germany, Spain, Canada, Denmark, Sweden and Portugal, but you can buy Warburtons Toastie White Bread for delivery worldwide.
One of our Warburtons branded products. This item typically has a short best before date of 4 days from time of dispatch.
Allergy Advice
May Contain Barley, May Contain Milk, May Contain Sesame, Contains Soya, Contains Wheat.
Ingredients
Wheat Flour [with Calcium, Iron, Niacin (B3) and Thiamin (B1)], Water, Yeast, Salt, Vegetable Oil (Rapeseed, Sustainable Palm), Soya Flour, Preservative: Calcium Propionate, Emulsifiers: E481, E472e, Flour Treatment Agent: Ascorbic Acid (Vitamin C).
Lifestyle / Additives
Halal, Kosher, Low Fat, Suitable for Vegetarians.
Storage Instructions
Storage Type: Ambient.
Store in a cool dry place, ideally not refrigerated. Under warm conditions storage life will be reduced. If freezing, freeze as soon as possible. For 'Best Before' date see label.
Pack Type: Unspecified Pack.
Product reviews
Great quality, amazing taste. Even though when it arrived it was slightly out of date BCS does say it has 4 days at dispatch, it was still soft and tasty. Love to have my toast in the morning with this bread. I definitely recommend it.
I have ordered bread from here several times now and I'm never disappointed! This bread is delicious and is always so fresh and soft. I'm so glad I can order bread on here to enjoy while living in America!!!
Worth every penny. I was tired of hearing my husband complain about our bread. Apparently American bread is too sweet, which I now see any Brit can relate to. I can't complain about the packaging, they do take their time ensuring everything is properly packed. The downside is of course the expiration date. We do freeze the bread and have had no problems doing so thus far.
OH MY absolute favourite bread from England! then I found out I could get it delivered to the US... AMAZING! It came packaged separately to the other items in the box, which was great and prevented it from being squished! The only downfall is the use-by date was the day it arrived, but I store the bread in the fridge and it lasted perfectly until the loaf was gone. Will definitely be ordering more, to satisfy my crisps sandwich need!
There's nothing like waking up to a couple of pieces of Warburtons toasted bread with your favorite jam and a hot cup of tea. The soft pieces of bread fit just perfectly in your toaster and the result is a wonderful breakfast. But, it doesn't stop there. Beans on toast and sandwiches will make a very tasty lunch. We go through a whole loaf in no time.
A real taste of home. Other bread is OK for a change but you cannot beat Warburtons for that taste of home. Nothing like a slice of Warburtons Toastie in the morning to set you up for the day ahead.
Just love it what more can I say and add...
We LOVE Warburton's bread American bread is very, very sweet, but this isn't our favorite variety. Either the white farmhouse or the wheat beats it out for both texture and taste. It does toast nicely though and does not get lost in the giant US toaster, unlike some other products we like and have trouble removing.
Was so excited when I found English bread for sale online and delivered to the USA. We've lived here for a number of years and the one thing we do miss that we cannot get here is decent ordinary bread, whether for a sandwich or toast. The sliced bread here is awful and my boys always referred to it as memory foam bread!! The box arrived fantastically well packed and so quick I placed the order at the weekend and it arrived on Wednesday a day earlier than the tracking originally stated. Overall very very pleased with the quality and efficiency of the service.
I love this bread! Tried it when I visited the UK, and just fell in love with it. Not overly sweet, it makes the BEST toast with butter and Marmite. I buy multiple loaves and freeze them, and they defrost just beautifully. They have a long way to travel, but they always arrive fresh. Thanks BCS!
This is one of the treats I miss from back home, so I'm delighted to see British corner shop stocking it. It makes fabulous toast, and is an excellent size,making two slices perfectly adequate, unlike some of the small bread that I can only buy now. I freeze it, and take out only what I need, that way there is no waste. Spread with butter, nothing else required, I'm in heaven.....
I love this bread! I no longer buy US white bread abound use Warburtons Toastie for all my tea sandwiches for my tea business Take Tea with Me. Toast and Marmite is just not the same on American bread!
Family favourite in my house grew up eating this toast.This is the best bread for toast delicious smothered in butter or butter with a bit of marmite.Stays fresh for a good few days without going stale.Also works well as a sandwich or to dip into soup.
I love this bread. It's impossible to get white bread that doesn't contain sugar in it here in the States. To be able to have toast with butter is such a pleasure.
This bread does indeed make very good toast, not sure how it is manufactured but I do know that I love the crunchy toast. This is my favourite choice for Heinz baked beans on toast, (from BCS of course.)
Although not the healthiest choice I do make myself fried bread as a treat with my 'full English' and its gorgeous.
We buy Warburtons white bread with every BCS order, this is something we really cannot live without. In the Netherlands, where we live, there is not a lot of good tasting breads on offer. This Toastie version is perfect for cheese on toast, beans on toast or pretty much anything requiring a piece of toasted bread!
I love that bread! It's really thick and two slices fit perfectly into my toaster. I put it in the freezer immediately when my order arrived so I can now enjoy it with a little butter (or scrambled eggs) every morning for my breakfast. It arrived perfectly packed, without being destroyed. I will definitely be ordering some more again!
The bread is so lusciously thick and has a real good bite to it. It's our preferred choice every time we order. May I add that it has to travel all the way to the USA and each time it's still as fresh as you'd buy at the local grocery store.
Warburtons Toastie is an excellent toast bread that will taste like home. The good thing with these is, that they are delicious with anything; just add some margarine, marmalade, peanut butter or Nutella on them and they taste so good.
Or why not making a sandwich by adding some cheddar, ham and lettuce between 2 toasts.
As a frequent user of the British Corner Shop I must admit I was delighted to find out that they stock Warburtons Toastie White Bread too.
It has been a long time since I last enjoyed a slice or two of this lovely bread.
It can be enjoyed as toast or as a great sandwich if you love your bread to be thicker than normal.
As you would imagine for a bread called 'toastie', Warburton's thick sliced white bread is perfect for making toast. It's thick enough that when toasted you still get a fluffy centre.
It makes wonderful doorstop sandwiches too!
The only downside is that the slices are so thick that you don't get many in a packet.
Would you like to write a review for Warburtons Toastie White Bread?
You'll need to be registered and logged in to write a review.
Did you know that you could earn £0.30 in Reward Points for every Product review of 50 words or more that you write. Find out more.
Are you a Trade Customer?
Please get in touch if you are interested in pallet or container volumes of this product.
A member of our wholesale team will be in touch with you.
Enquire Now
Award Winning Exporter
British Corner Shop are proud winners of the Queen's Award for International Trade, and Sunday Times Fast Track 100.
We are also a Waitrose official stockist.
More About Us