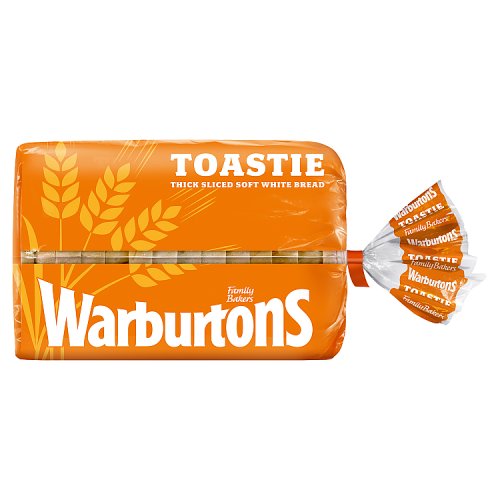 Short Life

4+

Days at dispatch
date
Warburtons Toastie White Bread Small
Product information
For the perfect toast, try Warburtons Toastie White Bread. Now available in a smaller size, this loaf is perfect for smaller households.
With just the right consistency and thickness, this delicious bread is also a great choice for melted cheese toasties.
Use a couple of slices with Gruyere cheese, Dijon mustard and ham to create a sensational Croque Monsieur.
Most popular with customers in United States of America (USA), France, Italy, Germany, Canada, Spain, Sweden, Madeira and Cyprus, but you can buy Warburtons Toastie White Bread Small for delivery worldwide.
One of our Warburtons branded products. This item typically has a short best before date of 4 days from time of dispatch.
Allergy Advice
Contains Soya, Contains Wheat.
Ingredients
Wheat Flour [with Calcium, Iron, Niacin (B3) and Thiamin (B1)], Water, Yeast, Salt, Vegetable Oil (Rapeseed, Sustainable Palm), Soya Flour, Preservative: Calcium Propionate, Emulsifiers: E481, E472e, Flour Treatment Agent: Ascorbic Acid (Vitamin C).
Lifestyle / Additives
Halal, Kosher, Suitable for Vegetarians.
Storage Instructions
Storage Type: Ambient.
Store in a cool dry place, ideally not refrigerated. Under warm conditions storage life will be reduced. If freezing, freeze as soon as possible. For 'Best Before' date see bag closure or label.
Pack Type: Bag - Plastic.
Product reviews
If you are after a small, white loaf then there really is not anything better than this. It is perfect white bread. Tastes just a good as the larger version. It is white and square. It is best for the toaster and comes out all lovely and crust. This is best product for every morning with butter and your favourite jam or honey. This bread is really good for toast and sandwiches. I will be buying this bread again.
If you like me enjoy bread at any time of day then I can recommend this smaller version of the popular Toastie loaf from Warburtons.
It is thick enough to be enjoyed in numerous ways and tasty enough to ensure that you will be left feeling satisfied when it comes to putting the last crumbs in your mouth.
As a connoisseur of cheese toasties, I can recommend this loaf. Just the right consistency and thickness to produce the perfect melted cheese toasted sandwich.
Would you like to write a review for Warburtons Toastie White Bread Small?
You'll need to be registered and logged in to write a review.
Did you know that you could earn £0.30 in Reward Points for every Product review of 50 words or more that you write. Find out more.
Are you a Trade Customer?
Please get in touch if you are interested in pallet or container volumes of this product.
A member of our wholesale team will be in touch with you.
Enquire Now
Award Winning Exporter
British Corner Shop are proud winners of the Queen's Award for International Trade, and Sunday Times Fast Track 100.
We are also a Waitrose official stockist.
More About Us