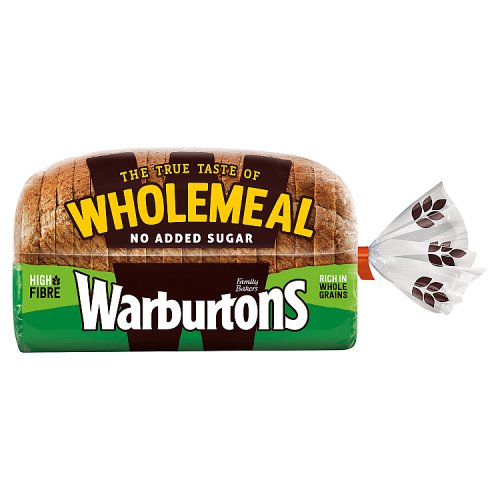 Short Life

4+

Days at dispatch
date
Warburtons Wholemeal Medium Bread
Product information
Baked with wholemeal flour, Warburtons Wholemeal Medium Bread is high in fiber, wonderfully textured, and has a delicious wholemeal flavour.
Founded way back in 1876 in Bolton by Thomas Wartburton, Warburtons is officially Britain's most popular bread maker. So you know you in safe hands!
Most popular with customers in France, Italy, Netherlands, Spain, Germany, United States of America (USA), Switzerland, Luxembourg and Korea Republic of, but you can buy Warburtons Wholemeal Medium Bread for delivery worldwide.
One of our Warburtons branded products. This item typically has a short best before date of 4 days from time of dispatch.
Allergy Advice
May Contain Milk, May Contain Sesame, Contains Soya, Contains Wheat.
Ingredients
Wholemeal Wheat Flour, Water, Yeast, Vegetable Oil (Rapeseed, Sustainable Palm), Salt, Wheat Gluten, Emulsifiers: E472e, E481, E471, Soya Flour, Preservative: Calcium Propionate, Flour Treatment Agent: Ascorbic Acid (Vitamin C).
Lifestyle / Additives
Halal, Kosher, No Added Sugar, Suitable for Vegans, Suitable for Vegetarians.
Storage Instructions
Storage Type: Ambient.
To enjoy our baking at its best, store in a cool dry place - ideally not refrigerated. Warmer conditions will reduce the storage life. If freezing, freeze as soon as possible after purchase. For' Best Before' date see bag closure or label. Suitable for Home Freezing
Pack Type: Bag.
Product reviews
I ordered the Brown bread and was delighted when it arrived in good condition and before the sell-by date. I made a cheese sandwich with piccalilli that I had previously bought from British Corner Shop. It was delicious! The bread soft and full of natural flavor without the extreme sweetness I find in most USA brown bread. The next day I made toast and that too was excellent. It is on my reorder list!
I always buy this bread when I go home to the UK. I love the nutty, healthy taste, which doesn't lose any of its flavour even when you toast it. However, it's better fresh with butter and a nice filling, you can really savour the texture and feel you are doing yourself good. It's a pity really that those of us who live abroad nearly always end up freezing bread.
I have already made a product review of the smaller version of this product but due to it being such a tasty, nutritious and fantastic product I thought I would share it with you.
This loaf is a normal sized load and cut in medium slices. It is large enough to feed a family for a couple of days when it is used for sandwiches.
Another great Warburtons loaf.
Would you like to write a review for Warburtons Wholemeal Medium Bread?
You'll need to be registered and logged in to write a review.
Did you know that you could earn £0.30 in Reward Points for every Product review of 50 words or more that you write. Find out more.
Are you a Trade Customer?
Please get in touch if you are interested in pallet or container volumes of this product.
A member of our wholesale team will be in touch with you.
Enquire Now
Award Winning Exporter
British Corner Shop are proud winners of the Queen's Award for International Trade, and Sunday Times Fast Track 100.
We are also a Waitrose official stockist.
More About Us