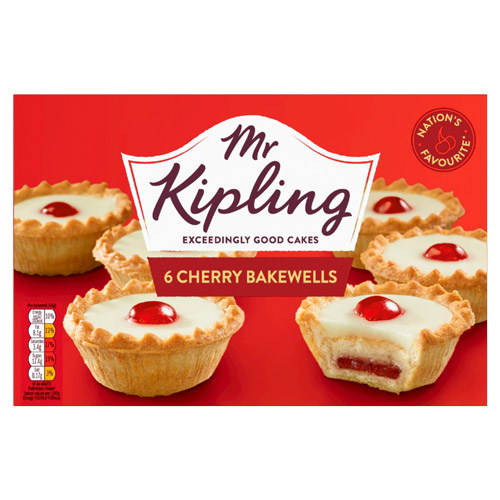 Short Life

10+

Days at dispatch
date
Mr Kipling Cherry Bakewells 6 Pack
Product information
Mr Kipling is famed for making exceedingly good cakes, and this Cherry Bakewell 6 Pack is among his finest creations. These delicious cakes are perfect for enjoying as part of a traditional British afternoon tea.
Originating in the town of Bakewell in Derbyshire, Cherry Bakewells are pastry cases filled with jam, covered with a tasty layer of almond sponge and icing, and finished off with an all important glazed cherry on the top.
Most popular with customers in United States of America (USA), France, Canada, Italy, Spain, Germany, Netherlands, Austria and Sweden, but you can buy Mr Kipling Cherry Bakewells 6 Pack for delivery worldwide.
One of our Mr Kipling branded products. This item typically has a short best before date of 10 days from time of dispatch.
Allergy Advice
Contains Almonds, Contains Eggs, Contains Milk, May Contain Nuts, Contains Sulphur Dioxide/Sulphites, Contains Wheat.
Ingredients
Wheat Flour (with Added Calcium, Iron, Niacin, Thiamin), Sugar, Vegetable Oils (Palm, Rapeseed), Plum and Raspberry Jam (Glucose-Fructose Syrup, Plum Purée, Sugar, Raspberry Purée, Gelling Agent (Pectin), Acid (Citric Acid), Acidity Regulator (Sodium Citrates), Colour (Anthocyanins), Preservative (Potassium Sorbate), Flavouring), Glucose Syrup, Glacé Cherries (Cherries, Sugar, Acidity Regulator (Citric Acid), Preservatives (Potassium Sorbate, Sulphur Dioxide), Colour (Carmine)), Sweetened Condensed Skimmed Milk (Skimmed Milk, Sugar), Ground Rice, Desiccated Coconut (contains Preservative (Sodium Metabisulphite (Sulphites))), Whey Powder (Milk), Dried Egg White, Ground Almonds, Salt, Dextrose, Emulsifiers (Sorbitan Monostearate, Polysorbate 60), Raising Agents (Disodium Diphosphate, Sodium Bicarbonate), Milk Proteins, Humectant (Vegetable Glycerine), Flavouring, Preservative (Potassium Sorbate).
Lifestyle / Additives
Free From Artificial Colours.
Storage Instructions
Storage Type: Ambient.
Best stored in a cool, dry place
Pack Type: Box.
Product reviews
I LOVE this product so much! I have to hide the box every time I buy them because I will eat way too many at once. For me, these are the perfect amount of sweet and are so good with a cup of tea. Highly recommend!
It's good that the dates are advertised here, as my Bakewells were very close to the best by when they arrived. Saying that, I ate them first out of the Kipling selection I ordered and even a few days past their date they were still incredibly delicious! I couldn't recommend these enough as it's the childhood nostalgia anyone living abroad needs!
These are great Bakewells. The crusty dough, the delicious filling, a lovely jam, glorious icing and the cherry on the cake. These treats are just great, with a nice cup of tea. I do really like the products of Mr Kipling, Too bad the shortage of life is quite short, usually, an order to Belgium already takes 10 days otherwise I would really order them by the site. But they are really good so 4stars!!
I have always been a lover of cherry Bakewells! I've tried different recipes to make these at home and nothing beats these. One of Mr Kipling's best in my personal opinion. I think they will definitely be a regular to my order. Can't beat one of these with a nice cup of tea! The kids never get a look in.
Wow! A blast from the past for sure! Cherry Bakewells were one of my favorite pastries from my childhood. The moistness of the almond-flavored sponge, the sticky jam and a nice layer of icing with the glazed cherry on top. I like to pop them in the fridge to keep them nice and cool. The personal-sized portion is just perfect for anyone.
Ah, a British staple, one that's really difficult to find elsewhere. And I've tried in more than a few countries. A great treat and the amount of icing and jam is just right. I've never met anyone who eats the cherry but what can you do. When they were delivered to me using this site they arrived intact, which is quite a feat if you know how crumbly they can be.
Yummy! I can't add anything more descriptive to the other glowing reviews, but I can say that now when I go to the shops and wander in the bakery aisles, I do not fancy anything I see, knowing I can order these tasty little cake/cookie treats so easily from BCS. Not usually buying what is on offer here in the States enables me to put that money towards an order through this site. And delivery to Michigan in only three days is phenomenal! Not only speedy but great email communication and trackable delivery through the UK as well as the States.
I got these for my husband as he would always have them in his packed lunch in the UK. This is one of the things he misses living in Germany. He enjoyed having them around Christmas time and looks forward to when I buy them again for him. Good value for money when they have to travel so far.
The Mr Kipling Cherry Bakewells was actually my first ever taste of Cherry Bakewells. I don't like almond paste or creams in anything thus the hesitation. Unfortunately for me, you can taste it in these tarts. I did like the other components but I was stuck at the almonds. I am glad I tried them and others I share them with did like them but they are a miss for me.
These cherry Bakewells are so yummy! A real family favourite of ours and a real taste of home. Generous filling with delicious icing topped off with a cherry. Such a treat with a nice cup of tea
These pastries are a lovely treat any time of day. The jam filling is just the right amount, the marzipan isn't too sweet and the cherry on top adds a nice change in texture. My only issue, and it's a slight one, is that the crust could have more flavor. As it is, it's pretty bland, though the rest of the treat nearly makes up for it.
These Cherry Bakewells are simply yummy! Great alone for a treat or certainly with Coffee or Tea. The filling is scrumptious, with it's rich, cherry zing the buttery, crusty pastry enfolds it so beautifully. Mr Kipling's Cherry Bakewells would be so perfect to have stashed in your cupboard for unexpected guests. Perfect
I love me some Mr Kiplings tarts.... these were just as good as I remember them. Tasty, Tasty, I love the filling and icing. I shared with a friend, now I have her hooked on them. They also freeze very well, I found this out because I ordered 3 boxes and didn't want to waste them.
Mr. Kipling's Bakewell Cherry Tart was absolutely divine! It tasted exactly as how I remembered it from my childhood. The pastry was nice and crumbly and the filling was very creamy, just how I like it. I was so excited to share them with my family and my girlfriend. They loved them as well.
I hardly know where to start with these. They are absolutely divine. They are sweet but not too sweet. The flavours are unreal. The sponge, the crust, the icing, the jam it all just comes together in the most special way. It might seem silly to seem so carried away by a little tart, but it was such an unexpected pleasure, right down to the cute little tins they pop out of. The cherry on the top is the icing on the cake. Every bite sent me to heaven. Needless to say, I am excited to be trying more Mr. Kipling products in the very near future!
My first order with the British Corner Shop arrived in perfect condition with a six pack of Mr. Kipling's cherry bakewells. They're exactly as I remember them with a generous filling and creamy icing..... the only problem is that my wife loves them and I have to share! Definitely a 5 star rating and highly recommended!
I can never decide which part of Mr Kipling Cherry Bakewells I like the most there is of course the buttery crust and the indulgent icing on top, but then the sweet jam is amazing and finally the almond taste of the moist cake filling is pure perfection.
I love cherry bakewells! I lived in Scotland for a long while before moving back to Canada, I can't find anything similar over here! It is like the perfect mix of crumbly pastry and a sweet gooey filling. Anytime my in laws come visit or I order from BCS cherry bakewells are always at the top of my list to get!
So good! Almost identical to the Swedish pastry called "Mazarin" but with more frosting, crispier edges and a lot more pretty with the little cherry on top. Will be back for more :)
Mr Kipling Cherry Bakewells have been a favourite of mine since childhood. They are a substantial cake that is packed with flavour. The only thing I dislike is the cherry on top but there's always someone willing to eat it for me! The icing is my favourite part of the cake, it's full of flavour and has a good texture but not sickly.
I think you guys may have just reignited an old addiction! It has been 28 months since my last Bakewell. The only bad bit about these little gems is the fact that you feel guilty if you polish off the while tray ...which may have happened on more than one occasion. Keep up the good work BCS and Mr K!
Nothing beats a nice milky cuppa and a Mr Kipling Cherry Bakewell Tart! The filling is yummy and moist, with just the right amount of almond flavour. The pastry is slightly crumbly and buttery and the icing is gorgeous. One of my favourite little rewards at the end of the week.
There is no better treat or pick me up than a cup of tea and a Mr Kipling Bakewell tart. Flaky pastry, sponge cake with a jam center then topped off with royal icing and a cherry... pure decadence for all ages! Mr. Kipling you are the king of baked goods and thank you for keeping the British traditions alive and delicious!
My husband adores these. They are always so fresh and tasty. The only complaint I ever hear from him is that they are too small. There for he has the perfect excuse to eat more than one at the time. Or so he says. Hiding them is futile as he sniffs them out where ever I do manage to stash them.
Nobody does it better than Mr. Kipling. Just like their Angel Slice: delicious icing that is definitely worth the price.
Swift delivery by BCS and delivered two boxes of this in mint condition!
Couldn't ask for a nicer treat than a Mr. Kipling Cherry Bakewell, with a cherry on top ;)!
Mr Kipling does make exceedingly good cakes! It is obvious that there are a lot of essences and flavourings involved in the making of these 'industrial' cakes, but nevertheless, Cherry Bakewells are hard to beat. Flavourings are one of the reasons that you will never get such good results with your home baking, not with this particular cake. It's just as well that they don't cost too much and that they are available on the British Corner Shop website. You can't stay without them for too long!
There is no way that I'd make an order without including these. My absolute favourites, even though over the years they have slightly changed in flavour, they are still delicious. Best Mr. Kipling cakes ever, impossible to make as nice as these, no matter what recipe you use. The creamy fondant is the best part, dare I say, it really is the 'icing on the cake'. Corny... I know. Anyway, if you've never tasted these almond flavoured delights, do so.
I agree, it's one of my all-time favourite cakes (especially the icing). It's hot here now in Italy and so I keep them in the fridge - wouldn't want that icing to be runny. The only complaint, if you can call it that, is that the pastry is a bit crumbly. I would prefer it to be firmer.
These are in every order I place with British Corner Shop. I've loved them ever since I was a kid and I'm pleased to say that they haven't changed one bit. All of Mr. Kipling's cakes are delicious but Cherry Bakewells are definitely the best and excellent value for money.
A real family favourite for years, always welcome with a nice cuppa or simply on their own. As always, Mr Kipling is exceedingly good at knowing what is good, a true classic cherry bakewell, full of flavour and the very best ingredients. Well done Mr Kipling, from all our family.
A great Bakewell, generous in filling and very moist, great almond an cherry flavour bursting in every mouthful, perfectly iced on top and finished with a juicy cherry, these are ideal for parties or to just have in the cupboard, and also very reasonably priced, Mr Kipling knows the way to my heart!t!
Would you like to write a review for Mr Kipling Cherry Bakewells 6 Pack?
You'll need to be registered and logged in to write a review.
Did you know that you could earn £0.30 in Reward Points for every Product review of 50 words or more that you write. Find out more.
Are you a Trade Customer?
Please get in touch if you are interested in pallet or container volumes of this product.
A member of our wholesale team will be in touch with you.
Enquire Now
Award Winning Exporter
British Corner Shop are proud winners of the Queen's Award for International Trade, and Sunday Times Fast Track 100.
We are also a Waitrose official stockist.
More About Us