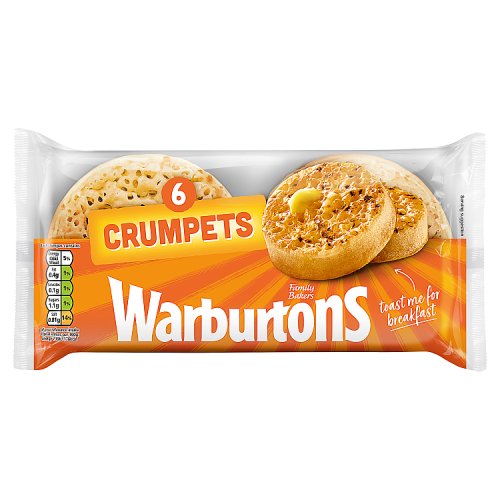 Short Life

4+

Days at dispatch
date
Warburtons Crumpets 6 Pack
Product information
This 6 pack of Warburtons Crumpets provides a perfect toasted snack for all the family. Ideal for breakfast, crumpets are also a delicious and warming teatime option, especially alongside a nice cup of tea.
Simply toast the crumpets and then add butter, allowing it to soak into the holes and make the crumpet lovely and moist. You can also add jam, marmalade, honey, even cheese, depending on your preference.
Most popular with customers in France, Italy, United States of America (USA), Germany, Spain, Netherlands, Greece, Sweden and Austria, but you can buy Warburtons Crumpets 6 Pack for delivery worldwide.
One of our Warburtons branded products. It is suitable for home freezing. This item typically has a short best before date of 4 days from time of dispatch.
Allergy Advice
May Contain Eggs, May Contain Milk, May Contain Sesame, May Contain Soya, Contains Wheat.
Ingredients
Wheat Flour [with Calcium, Iron, Niacin (B3) and Thiamin (B1)], Water, Yeast, Raising Agents: E450, E500, Salt, Sugar, Preservative: Calcium Propionate.
Lifestyle / Additives
Halal, Kosher, Suitable for Vegans, Suitable for Vegetarians.
Storage Instructions
Storage Type: Ambient.
To enjoy our baking at its best, store in a cool dry place - ideally not refrigerated. Warmer conditions will reduce the storage life. If freezing, freeze as soon as possible after purchase. Once opened use within 2 days. For 'Best Before' date see film.
Pack Type: Bag.
Product reviews
These crumpets are a delicious treat. They can be popped in the toaster or under the grill and then smothered seductively with melting butter for a comforting breakfast or snack. If you want more flavour, I would recommend Marmite, marmalade, jam, syrup, or cheese.
I could not wait to wake up this morning to have my Warburtons Crumpet. Under the broiler, until it's slightly toasted, with a pat of butter and a hot cup of coffee makes it a quick and delicious breakfast. They are the perfect texture that holds up well to butter and jam. I will be ordering another pack soon, as these will not last long in my house!
These crumpets are essential! They arrived in perfect condition, and still within date. I always pop them in the freezer on arrival. When you're ready to eat them simply pop them in the toaster or under the grill. Get them nice and hot then slather them in butter....no other topping is needed, but honey, jam, or even marmite my husband's favorite are all good on crumpets. No Sunday morning is complete in our household without our crumpets!
Really delicious. I know you can put all kinds of things on them, but just good butter is more than fine. Excellent for breakfast with tea or coffee. Have completely spoiled me for English muffins, not to mention the nasty hockey puck crumpets one of our local stores carry in their import section. These freeze beautifully, too. I let them defrost at room temperature, and then just toast them normally.
Is there anything more delicious than a hot crumpet dripping with butter? I think not! It's so wonderful to be able to get crumpets delivered all the way here in the States. The British Corner Shop packs everything up so wonderfully, and the delivery is so fast with DHL that I don't have to worry about them getting ruined in transit. I've tried for ages to explain to my American in-laws that no, a crumpet is NOT the same as an English muffin! and now I can prove it. Sharing is the problem... 5 Stars!
During this time of the Covid pandemic, you can lay back, relax and relieve stress with a Warburton's crumpet and some Waitrose ginger preserves. Comfort food supreme. But either one is wonderful anytime. I've tried other crumpets available here in the US, but Warburton's are the best. I've shared them with family and everyone agrees. So glad I can order them from British Corner Shop. Thank you.
Total British classic and something I miss very much abroad. Feeling home sick on cold winter day can't go wrong with this and some cheddar cheese.
Every order I have from BCS is perfectly packed, some of the best packing I have seen. Never any damage. Anyway on to the product, who doesn't love Crumpets? I can tell you I really missed these, there's nothing like them at all, freshly toasted with butter, what a treat. Isn't it funny how to take these things for granted when they are readily available 24 hours a day,7 days a week. I have tried many brands and they are all very nice, even some of the own brands are great. However when I was last in the UK I bought a couple of packs of both shops own brand and Warburton's, it's then you really can taste the difference. O wouldn't knock the shops own brand at all and they were cheaper, but the quality and richness of flavour really are evident from the Warburton's variety. They're really wonderful and well worth the extra cost. If I had the choice I'd go for the Warburton's every time, They're just yummy. Actually, my mouth is watering now just thinking about them. Time for an order I think.
A British breakfast classic, the crumpet! These Warburtons crumpets are delicious and satisfying when it comes to breakfast. Personally, I prefer just butter on mine but I'm sure you could add anything to them. Pop them in the toaster for however long you prefer. We usually freeze them until we need to use them, great for making them last longer!!
I'm actually not a big fan of bread or similar products, but it's appearance intrigued me and I had to get them.. Not disappointed at all, in fact, it's probably the best bread I've ever had! They arrived a few days after their best before day, but haven't gone bad by then. I toasted them, which made the outside crunchy, but the inside soft and fluffy, smeared a nice amount of butter and really enjoyed them! Would recommend.
What is more English than a hot buttered crumpet!? I can find them in one store here in the US, but I thought I would try some Warburtons while I was making a British Corner Shop order, and I'm very glad I did. They were as good as I remembered, lovely with some strawberry jam and a cup of Earl Grey. Happy memories of childhood teas toasting crumpets in front of a real fire!
I simply love these crumpets strange enough I have never had them as part of a hotel breakfast in Britain. Their short shelf life is the only reason I don't buy them on a monthly basis and parcels tend to be upheld in Norwegian customs for too long. I have never seen them in Norwegian stores. The texture is great, and they taste so good with butter and jam and marmalade and a cup of tea or coffee.
I can't get enough of crumpets. Beautiful with just butter or/and jam.
Another great value buy. My Italian partner had never tried crumpets, but they now love them, particularly for breakfast covered in butter and jam with a nice cup of Tetley tea. On arrival sell-by date was a little short, but ok to freeze and then toast, so well worth stocking up on a few packets to last over the coming months.
Arrived with plenty of time to eat them. Great with marmite love it or hate it, with just butter or as part of a breakfast with bacon and eggs. Warburtons seem to be one of the better brands of crumpets. I am sure they are fine for freezing but they don't last long enough in our house for us to find out.
Crumpets were my favorite breakfast growing up. I find it very hard to find good quality crumpets here in the States. Nothing beats Warburtons crumpets. Just toast them lightly and slather them with a condiment of your choice, like butter, jam, honey or syrup. My personal favorite thing to do is to spread a generous amount of butter and watch it melt into the holes inside the crumpet. Ordering multiple packs is a must for our family!
Warburtons crumpets are by far the best there is. I live in the United States. We can get crumpets here but they are not as light and airy as Warburtons are. I'm so glad I can get them here now. Most import stores here don't offer bread products because of the expiry dates. You can just pop these in the freezer when you get them and enjoy them fresh when you're ready.
When I lived in England I ate crumpets every day. I bought this one and it's the same! Finally, I could have England in my breakfast! I ate them with Nutella and it was the perfect combination. I just want to recommend to pay attention to the expiry date. What a pity they have a short life!
Warburtons crumpets are by far the best. I have tried the Canadian crumpets but they are dry and have no flavor. These remind me of home. I suggest that you fill your freezer and enjoy a bit of England in the morning. Just pop them in the toaster and spread some butter.
Such a great taste! It tastes so good with butter, Nutella or whatever you want to use. Also very filling!
I was really pleased I could order myself some crumpets as they don't have much like that over here. They were pretty tasty and very comforting. I just toast mine with butter but they toasted well and soaked up the butter, the only problem I had was that they were too wide for my toaster so I had to force them in.
These were excellent. No doubt. so why only 4 stars? Honestly, they weren't any better than crumpets I can buy from regular American stores, which kinda shocked me. I'd grown up with store brand crumpets so I was surprised there was even a brand name crumpet available. They arrived fresh and toasted up perfectly well. Added some butter, Marmite, and Cheese. Delicious. Just not likely to buy again.
Crumpets are definitely one of the things we miss the most! I ordered 6 packets, with the intention of freezing them and then rationing them! My order was dispatched on May 14th Tuesday, and arrived the following Wednesday May 22nd to Estonia. All of the crumpets had a best before date of May 19th so had effectively gone off 3 days prior to receiving them however on closer inspection they did all appear to be ok, not mouldy or hard etc. I froze all 6 packets on arrival and we have been slowly working our way through them and trying to make them last as long as possible! I defrost a packet overnight in the fridge, and they are perfectly defrosted by morning to then just pop in the toaster. Perfect with lashings of butter! I will order more, even though I am slightly wary that I might not be as lucky with the quality if they are over their expiry date again, I'll take the chance though as they are so freakin' good!
I have tried different brands of Crumpets but have found Warburtons to be the best, they are a great combination of being soft and slightly chewy, whilst crisping up nicely on the surface when toasted either in the toaster or under the grill - when we can't resist and decide to do the whole pack of six at once! They don't have a long expiry date but that 's not a problem as remaining packets freeze well and especially if you place them in a proper freezer type bag first.
These are quite possibly the best crumpets available anywhere. They are light, fluffy and always consistent. They are perfect with melted butter, jam, cheese spreads, peanut butter and really, any and all other spreads. They are much fluffier than English muffins and bagels and have a wonderful light texture. With only 97 calories and under 1 gram of fat per crumpet, they make a perfect guilt-free snack any time of day. They also freeze really well so you can use at your leisure without any degradation of quality.
I really like how these crumpets are! It is not sweet, very fluffy and the butter just goes in easily when melted. I want it toasted when I am using jams and I put it in the oven when I am using cheeses. Portion sizes are ok, not small and not big. I will buy this brand again.
The store I used to purchase crumpets from discontinued them so I ordered Warburton's. I was a little disappointed they were past their sell-by date when received but even then they were fluffier and crispier with a better flavor than those I purchased in the USA. In addition, even with shipping costs, they are a few dollars cheaper so I'm definitely ordering more.
Warburtons Crumpets are a staple in my house. Very few come close to it and definable nothing that I've found in the States compare. This is why I get several packs at a time and freeze them. The crumpets do not lose their taste or texture even after freezing. I toast them directly from the freezer without having to defrost and never have an issue.
Absolutely delicious crumpets, crunchy and soft at the same time. I slather them with butter when they pop out of the toaster and then add some sour cherry jam to give it a nice tart taste. Can't beat this for a nice quick breakfast or snack. Perfect even when they come out of the freezer, just wrap them in a freezer bag for best results. Got two packs last time, and will definitely have to order more next time.
I absolutely love crumpets! These are my favorite! A nice sized crumpet in a big pack of six! I ordered thirty two packs and froze them. I take them out and pop them in the toaster oven and eat them with Kerry Gold butter! We also gave packs of crumpets to elderly relatives at Christmas! Easy snack to make and everyone loves them!
Impossible to find here in Italy, I'm so glad to find it here. You can also order more and freeze them, this way you won't ever run out of them again!
I am so happy to have discovered how easy it is to have Warburtons crumpets without waiting to go to the UK. I ordered 2 packets in my second BCS order, but have just ordered another 3 or 4? in my 3rd. Hats off to BCS for a brilliant service. They are truly delicious!
Crumpets are my absolute favorite, I love them with lots of butter drowning lol. My kids also like them with jam, peanut butter, or lemon curd. I take the edges off from around the edge n also give them to my 8month old. New discovery: put tomato puree n then cheese on top n put it under the grill till the cheese is melted n you have yourself a mini pizza
My favourite product on here. Nothing beats a toasted buttered crumpet! You don't actually need much butter, which it soaks in instantly I buy lots of packets and freeze them. They usually arrive with a few days before the best before date. It was a childhood treat and also became loved by my daughters and husband, I have to hide them in the freezer, or they seem to disappear. Heavenly!
I ordered a few and they arrive 3 days before the best before date. I froze them and have eaten them over a period of about 3 months, and they tasted great. Remember to repack them if you intend to freeze them as the packaging they come in is not suitable for freezing.
First time I ordered these, when they arrived they still had 5 days left on the best before date, so that was fabulous. They are delicious! I just received my second order and my crumpets had expired 3 days before I even received the order so that was a little disappointing. Hoping next time they will be slightly fresher
Warburtons crumpets are my favourite product from the British Corner Shop. I order a packet or two everytime I submit an order. Crumpets stir up so many happy memories of living in England. I have tried other brands but Warburtons are the best. They are great toasted and buttered, so soft, and I love the way the hot butter trickles through the holes in the crumpets. If you don't want to eat the full packet of 6 which can be tempting you can take one or two out of the packet and freeze the rest. They are delicious!
I love this product so much! I remember buying loads of these while I was on vacation in London last year! So glad that you guys have such a wide selection to choose from. It definitely makes me want to visit the U.K. again! I would definitely recommend this product. Five stars!
So happy to see they have these here on the online shop. They are really yummy, my favourite breakfast when I was in the UK. They toast beautifully and are the perfect good morning ritual with a little bit of butter melted in the tasty holes. I tried some home made ones, but I must say I really enjoy this brand, it doesn't lose anything by being a grocery shop product. And they can be frozen, so you can stock up on them and have a nice crumpet way beyond the expiring date.
These are most definitely the best crumpets I have ever tried! They're always slightly past the due date by the time they arrive but they are still very good! Nothing beats a freshly toasted crumpet with a hearty amount of butter. Last time I ordered it, I ordered two 6 packs my father ate ten of them, leaving me with a measly two so I had to immediately order some more. They're a definite hit with everyone.
I live in the U.S. and have been lucky enough to experience freshly made crumpets and they were divine! You can imagine my happiness when I saw these and ordered them right away. Unfortunately, the texture was very firm and gummy. You can't beat freshly made crumpets but I was very hopeful these would come close. At least I gave them a try...
Just pop them in the freezer when they arrive and they will be every bit as good when you defrost them and pop them in the toaster. Such a really British treat which I really miss.....until now that is!
These are the best crumpets you can buy, the other brands don't compare as they dont absorb the butter without dripping it through the bottom.they are delicious when hot and covered in butter or a bit of marmite for breakfast or a snack.Would recommend to anyone who fancies trying something different for breakfast or loves crumpets!
I love the crumpets! Since I tried them in London eleven years ago, I had no eaten them again .It was a great surprise for me to discover that I could buy them at British Corner Shop. Its spongy and crunchy texture make me crazy, whether I eat them with butter, jam or cheese. It is comforting to have hot crumpets at breakfast or before bed. This really is a wonderful product.
Absolutely the best crumpets there are. You cannot go wrong with these. They toast up perfectly and are delicious with a slathering of butter. They freeze okay, but for a better end product out of the freezer I recommend placing them in their original packaging into a larger freezer zip lock style bag, they come out perfectly that way. I have ordered these even close to the past due date and have never had a problem with them, they are fresh every single time.. This is an item I can count on, so it's always on my shopping list... enjoy!
Warburtons Crumpets are wonderful. I've tried other crumpets here in the States and they just don't taste the same.These are perfect toasted, slightly crispy on the outside, but soft and chewy when you bite into them. I love them with butter and jam and my daughter loves them with butter. Because they have a slightly longer shelf life than bread, I tend to buy these more frequently than bread.
I absolutely like Warburtons crumpets. These are very good crumpets for the price. When lightly toasted, they are a perfect balance of crunchy, crispness and a soft. Smeared in butter or favourite jam, it is comfort food! Crumpets are great as a base for Philadelphia cheese or Nutella too. Many people liked with scrambled eggs, bacon and tomatoes. A fair coating of butter and a cup of tea for a perfect cold autumn afternoon snack.
I currently live in America and not very many people even know what a crumpet is here. I have found a store that sells what they claim are crumpets but are actually paper thin and don't have holes! nothing beats the British classic of Warburton crumpets covered in butter for supper or breakfast. They are lovely and thick with plenty of holes to let all the buttery goodness soak in. I will be stock piling and freezing these on a regular basis.
We always order 6 packs, and keep them frozen, unfortunately due to lack of space we can't order more! We try to ration ourselves to a pack a month, but that hasn't worked yet. They are so scrummy with just butter, or cheese, or Marmite, or if you have a sweet tooth then try peanut butter, jam, marmalade or honey. However you want them, they are a true taste of home.
I have been buying crumpets in the U.S for years and have not had any British crumpets for more time than I care to remember. Well I had forgotten how good they are. These are super!!! Lovely texture and a super flavor. I slathered New Zealand butter all over them and they went down very fast. I just ordered some more. Not to be missed. Thanks British Corner Shop.
Love these and order them whenever I shop here! They do have a short date and usually go off about a day or two afterwards, but they freeze well, though once you learn to love crumpets they won't last much longer than 2 or 3 days anyways. The product is always in mint condition. Perfect with jam or peanut butter, or savoury with spaghetti hoops or baked beans.
I love this product , this reminds me of growing up. The malty taste and the texture you just cant replicate it even with a bread maker. Its lovely toasted with a nice thick spread of butter , or sliced quietly and sneakily in the kitchen so the children don't see you and want a treat.
I just love crumpets! Toasted with butter on top and a nice cup of tea beside, just like being back in England!
I've found that either fresh or frozen (even frozen a day before expiration) they last nicely and stay tasty (after being heated up of course). Marmite, Marmite & Cheese, Cheese, Cheese & Jam, Jam...so many possibile toppings, I could eat these everyday! You can't go wrong with Warburtons crumpets, always a must have product in your kitchen!
Mmm Crumpets.
Great fresh or frozen and then toasted.
Great for breakfast or even a late supper.
I'm a traditionalist and prefer mine smothered in butter and these are so delightful.
Like bread I usually repackage my crumpets into packages of 2 and freeze them taking them out when I want to indulge. I usually pop them straight in the toaster or under the grill but they are excellent defrosted as well. Especially if you pop some kitchen roll between the crumpets as this helps to avoid the dreaded soggy bottoms.
I love this product , this reminds me of growing up. The malty taste and the texture you just cant replicate it even with a bread maker. It lovely toasted with a nice thick spread of butter , or sliced quietly and sneakily in the kitchen so the children don't see you and want you treat?
Have not had crumpets since leaving the UK five years ago. The toasted crumpets with butter melting through was heavenly. As I had bought several packs I froze some. Some I thawed and some cooked from frozen the texture and the taste were as if i had just bought them from the shop
Absolutely scrumptious. Mine arrived today and I can't wait to enjoy them. I prefer them lightly toasted and generously spread with butter. Best if the butter is allowed to soak down through. Served with a nice cup of tea and topped with honey or jam for a change. My mouth is salivating already!
Absolutely divine, but only when warmed up properly!
Crumpets are meant to be toasted and heated, not eaten as is (as I did in my desperation to eat one NOW when I received my BCS box). Once golden and hot, I slather on butter and sometimes jam and eat them just like that.
However, they're also delicious with beans, or with a poached or fried egg perched on top and covered in sauce. Whatever you do, though, toast them!
Probably the best crumpets I have ever eaten, they are crispy and slightly chewy. In the past I have eaten crumpets that have had a soggy texture, not at all pleasant. These crumpets are not soggy, they are perfect and hold the melted butter like tiny pockets. I have converted many friends with these crumpets, they used to say they did not like crumpets until they tried Warburtons.
As a child I thoroughly enjoyed the home made crumpets my mother used to produce. As time went on, my sister kept up the tradition. Now I buy Warburtons crumpets and I find them every bit as enjoyable as the ones my family made for me. They are light and crispy and absolutely scrumptious.
If there's one thing I miss from England it's being able to have breakfast with hot buttered crumpets. Filling them with jam or eating them as they are depends on the mood, but these crumpets are delicious any way you dress them. Though they have a short expiry date they'll last longer than expected, as long as you keep them well refrigerated after opening them.
The entire family loves these tasty crumpets. They are fresh when they arrive and also freeze nicely. Definitely the best out there. The crumpets are nice and thick and are lovely and soft when the butter melts down to the bottom, They taste great with just butter or with butter and jam or jelly on top.
I ordered 2 packs, we ate one at once (the children loved them and I wasn't disappointed either!), and I put the other in the freezer, for a future treat.
Warburtons make the best crumpets! This was the first thing I opened when my package arrived and, as always, they were delicious. Obviously butter has to be spread all over, but I love mine with Marmite! This and a cup of tea is simply the best!! And now my Italian friends love them too. They keep well in the freezer, so I ordered 3 packs. Thank you Warburtons and thank you BCS.
Warbutons definitely do the best crumpets! These are light, fluffy and perfect for putting under a hot grill as they don't dry up or go hard like some other brands. Serve with lots and lots of a good quality butter. For a more filling and substantial snack, place some grated cheese on top and pop back under the grill for a few seconds more - simply wonderful!
These crumpets are a real tasty treat for a cold evening in winter, slathered in proper butter and even a touch of strawberry jam. Being able to order these crumpets has made my husband very happy as we do find them very hard to get hold of, I also can confirm they keep very well in the freezer.
Awesome if you're a fan of eggs Benedict ...which happens to be my hangover cure!
I ordered a few packs of these bad-boys and keep them (quite happily) in the freezer ready for toasting and crowning with the topping of the day.
A good one to chuck in to fill a partially full box.
These crumpets are the ultimate British cold weather treat. Toast them until they are golden brown in colour and spread them with real butter (not marge, it's just not the same). Serve with a cup of instant coffee made with hot milk, snuggle up under a blanket and watch something like Downton Abbey on TV, it's a little slice of British heaven!
Delicious! I ordered one pack of crumpets, but I wish I ordered more. They are light, fluffy and a perfect start to the day, or a great lunch! I'm so happy that I can now get these crumpets in the Netherlands.
Part of my everyday breakfast.
Hot crumpets with lashings of butter... I don't know how to describe the taste, it's just amazing. If you have not tried it then I suggest you do. This is an autumn and winter treat for me, cant wait to order more.
Arrived fresh. Ordered two and put one pack in the freezer. On Saturday, I warmed them in the microwave and put clotted cream and strawberries on top, and enjoyed with a cup of Twinings Irish Breakfast tea. Sunday, I toasted with Irish butter and Loganberry jam, and washed down with a glass of cold milk. Looking forward to next weekend for sure! They will be on my next order, I haven't been able to find them locally for many years.
Warburton's crumpets are rated so high because they are INCREDIBLE. I've never had a packaged crumpet that manages to have both the spongy quality (to better absorb butter and jam!) but still have a thick enough texture to not make them chewy. Utterly delectable and I'm so glad I can get them shipped!
I am in love with these crumpets. Not only are they 99 kcals but they're quite thick and soooo fluffy. In the US the only place you can get crumpets is at specialty stores and those are far from the traditional crumpets.
These toast up nicely and the nooks are delightful. I usually put lemon curd on it and it is definitely something everyone should try!
They are super light and fluffy as well even after putting them in the fridge for a couple of days.
Mmm scrummy! I absolutely love crumpets and Warburtons have long been my favourite. There is just nothing better than a toasty crumpet with a little butter melting on top and a fresh cuppa on an early morning....or late evening...or any other time.
I have to order multiple packs as my little also devour them.
Please never stop stocking these!
I bought three packets intending to eat one and freeze two which I did immediately on delivery. Good intentions didn't last long as they'd hardly had time to freeze before we were defrosting them again.
Absolutely delicious dripping with butter (bought with my fresh goods parcel) . I think my next order will have to be for six packets!
Warburtons Crumpets what a treat haven´t had any for years, as soon as they arrived it was in the toaster with two and then smothered with plenty of butter.
Luckily I had to have two more luckily I ordered two packs and of course they can be frozen, so will be able to stock up with my next order.
A great product and highly recommended.
Oh my god...I almost forgot about crumpets till I had some a few days ago in a friends house. He ordered them here at BCS and I grabbed one straight away. Just give them some butter and some jam on it and enjoy. It is absolutely highly recommended. Very good!
We are a multi cult family and all of us love crumpets, pickets or whatever you call them in your region!
I personally love them with a thick spread of butter that melts in the holes and soaks the bottom.
The wife has a light spread of Jam on them and tells me this is 'the way to eat crumpets'.
Happy to find them on BCS and even happier that they can be frozen although the delivery times are so fast that this is not necessary or possible as we tend to eat them very quickly.
A breakfast without crumpets is not really a breakfast!
Me and my family love Warbutons crumpets. They are absolutely delicious with melted butter and jam, but I've tried them with melting cheese and ham on top,then put them in hot oven till all cheese is melted. Believe me they are really super. The only thing is one packet is not enough.
As usual fantastic delivery service from British Corner shop meant that the crumpets arrived well in date - I have now frozen them to be enjoyed over the coming cold winter months. They can either be defrosted in the toaster or left out for a few hours before being toasted and spread with a good layer of butter - again from BCS.
Nothing reminds me of home more than a cup of tea and crumpets. Toasted and smothered in butter they're delicious, so much so that they've become an instant classic with natives here in Holland. Does matter how many packets I buy they never make it to the freezer as they're all gone way before the best before date.
When I was last in UK, my mum had got some Warburton crumpets in - I LOVE crumpets - and these have to be the best ever - well, they have to be as I am ordering 12 packets of them. I will freeze them - they freeze SO well and are really the best ever that I have tasted! I CAN buy crumpets in USA but nothing beats the Warburton ones.
These are the best crumpets we've ever eaten! They toast up crispy and brown on the outside, but stay tender on the inside. We slather them with butter or cream cheese and jelly.
I make sure Warburton's Crumpets are in every parcel I order from the BCS. Even if there is a short sell by date, I don't care, they're still delicious if it's a day or two after.
For me there's no other way to eat crumpets than lightly toasted and spread with butter. Simply delicious!
Heavenly! The Germans produce some amazing bread, but crumpets are something extremely British. Mine arrived with about 5 days left before the use by date, so no Problem at all. We ate the first pack the next morning for breakfast, lovely and hot, with dripping butter. I froze the second pack, but it didn't stay in the freezer for long. :-) Absolutely gorgeous with a smidgen of Marmite, if you are a Marmite fan.
Can't go wrong at all with a hot buttered crumpet. These are just the right size to be able to fit in the toaster I have found. They crisp up lovely on the edges yet remain soft and fluffy inside. I will certainly be adding these on my next order.
I fully agree with all the reviews. These are absolutely divine. They really do taste better than most you'll find in the local stores. We toast it and slather it in butter, jam and cheese. Sometimes we like going the sweeter option with some golden syrup and whipped cream and fresh cut strawberries! so yum.
My daughter cannot live without these crumpets, so I'm very glad I can get them shipped to her in the U.S.A.
They are great and tasty.
Great crumpets! Finally ordering these crumpets has allowed me to enjoy the good old crumpet in my newly adopted country! Although they have a short date, if put straight in the freezer and packed correctly they will last a good while. A really great tasting crumpet that arrived in Korea with a few days on the date to allow a couple to be eaten on arrival and a few to be stored. Will be a staple order.
We all seemed to think these were about the best. My Mum loved these, my Brother not so much. I personally found them a little bland but compared to a lot of other's we had tried they were the best so far. I would recommend them to others if you don't have a Nanny to cook them for you.
I agree with the majority of the reviews above but for my taste you have to be 'careful' of the butter you use. That is, saltless butter is simply no good and makes the crumpets (already quite bland) taste even more insipid. I love crumpets, always have. Unfortunately they are not even known of in Italy let alone sold here. I've tried various brands over the years but Warburtons has to be about the best.. I find that most of the others have that 'fizzy' taste due to the bicarb in the liquid dough mix. Warburtons do not. Even though they have a short sell by date, I have risked having them sent to me and received them the day after the sell by date. No problems at all as they were perfect and went straight into the freezer anyway.
One of the nicest things you can have on a old morning, to make you feel at home! Oh, from frozen I just pop them into the toaster twice instead of once.. the first time they defrost then they crisp up lovely.
I have always loved crumpets - covered in lots of real butter they are the perfect comfort food. We always have them for breakfast on Christmas morning as a tradition as they are that nice, and everybody I have spoke too has agreed that Warburtons make the best crumpets. No other brands come close, it must be because they are rather thick so absorb plenty of butter.
Why has Britain never managed to export the secret of crumpets ?? How is it that this wonderful breakfast secret remains a hidden secret? I have introduced quite a few foreigners to these and they were all immediately hooked on them but there it is absolutely impossible to find them anywhere outside the UK and even then on my last trip Waitrose did have any in stock. Scandolous
When I lived in London for a year during University, I became addicted to Crumpets and they are the thing I miss the most. Breakfast just doesn't feel complete without a toasted crumpet with some butter or some cheddar cheese. A must have item for me. Some Tetley tea and crumpets and I'm in heaven.
Having lived overseas for sometime now I am usually able to find a native equivalent of a lot of the foods I miss and make do with those for most of the year. Then just order in the real deal for Christmas/birthdays/Easter etc. However, crumpets are just one of those really British things that I have never found anything approaching similar outside of the UK, truly British!
Should be eaten with heaps of butter and, if you're like me, an even bigger heap of another one of those truly British things- Marmite!
Every respectable expat Brit should have a pack (or three) in the freezer ready to pop into the toaster at a moment's notice. When I've lived in places without a toaster I've been able to just throw them into a dry frying pan and gotten just as good results that way- obviously just need to turn it over to toast each side equally.
Warburton's crumpets are as good as any brand out there. I'm getting that crumpet feeling right now!
Absolutely love Warburtons crumpets :) they toast up brilliantly in my toaster and are heavenly when smeared with butter ( yummy ) . I also like to freeze them and they are just as good defrosted than fresh. Can't wait to receive my next batch, hopefully they will arrive soon ! !
I ordered 2 packs of 6 and should have ordered more as they are so tasty. You can freeze them or keep them in the fridge until you need them. I toast them in a toaster so they are slightly crispy and then add as much butter as you like, they are also very tasty with Marmite or jams. Highly recommend the flavour and texture of these crumpets by Warburtons.
As previous reviews mention, these need to be heated and slathered with butter to be a perfect side with a cup of tea. I like mine with orange marmalade. I hadn't thought about freezing them but it's a really nice idea, and means I wouldn't have to eat them all in just a day or two.
Warburtons crumpets are the best. They are great for toasting as breakfast or a snack. You can easily freeze these and they will stay good for 6 months, so no need to eat them all in one go. Try with marmite for a traditional British snack.
I love crumpets for weekend breakfasts, with a nice cup of tea. Like a previous reviewer, I usually buy a few packs and freeze them for Sunday morning treats. They absolutely need to be warm and nicely toasted without being burnt, delicious with melted butter, golden syrup or cherry jam.
Absolutely delicious with melted butter, and a cup of tea. I freeze these crumpets as soon as they arrive, they taste every bit as good after defrosting as they do when fresh. I have a defrost setting on my toaster, so I just take as many crumpets as I need out of the freezer and pop them straight into the toaster, perfect crumpet every time, thank you BCS!
Having orded mid-week the date on these was just past by the time we got them, but they were still delicious toasted with butter and a bit of golden syrup (not honey, tut tut) or jam.
They freeze alright, you just pop them in the oven on a low heat for ten minutes before toasting them.
Would you like to write a review for Warburtons Crumpets 6 Pack?
You'll need to be registered and logged in to write a review.
Did you know that you could earn £0.30 in Reward Points for every Product review of 50 words or more that you write. Find out more.
Are you a Trade Customer?
Please get in touch if you are interested in pallet or container volumes of this product.
A member of our wholesale team will be in touch with you.
Enquire Now
Award Winning Exporter
British Corner Shop are proud winners of the Queen's Award for International Trade, and Sunday Times Fast Track 100.
We are also a Waitrose official stockist.
More About Us