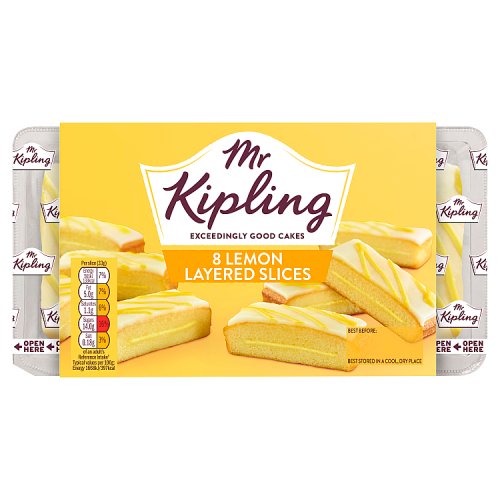 Short Life

8+

Days at dispatch
date
Mr Kipling Lemon Layer Slices 6 Pack
Product information
Another classic offering from Mr Kipling's endless range of exceedingly good cakes, these Lemon Slices comprise a mouth watering sponge topped with a zesty lemon icing. Put the kettle on and serve these up for the perfect afternoon treat.
Mr Kipling Lemon Slices contain 100% natural flavours and are baked with free range eggs.
Most popular with customers in United States of America (USA), France, Italy, Spain, Canada, Germany, UK - England, Netherlands and Poland, but you can buy Mr Kipling Lemon Layer Slices 6 Pack for delivery worldwide.
One of our Mr Kipling branded products. This item typically has a short best before date of 8 days from time of dispatch.
Allergy Advice
Contains Eggs, Contains Milk, May Contain Nuts, Contains Soya, Contains Sulphur Dioxide/Sulphites, Contains Wheat.
Ingredients
Sugar, Wheat Flour (with added Calcium, Iron, Niacin, Thiamin), Vegetable Oils (Rapeseed, Palm), Water, Glucose Syrup, Humectant (Vegetable Glycerine), Dextrose, Dried Egg White, Whey Powder (Milk), Maize Starch, Raising Agents (Disodium Diphosphate, Sodium Bicarbonate), Vegetable Fat (Palm), Tapioca Starch, Concentrated Lemon Juice (contains Preservative (Sodium Metabisulphite (Sulphites))), Emulsifiers (Mono- and Diglycerides of Fatty Acids, Polyglycerol Esters of Fatty Acids, Soya Lecithin, Sorbitan Monostearate, Polysorbate 60), Salt, Flavourings (contain Milk), Stabiliser (Xanthan Gum), Preservative (Potassium Sorbate), Acids (Citric Acid, Acetic Acid), Milk Proteins, Gelling Agent (Sodium Alginate), Colours (Titanium Dioxide, Lutein).
Lifestyle / Additives
Free From Artificial Colours.
Suitable for Vegetarians.
Storage Instructions
Storage Type: Ambient.
Best stored in a cool, dry place
Pack Type: Sleeve.
Product reviews
Mr Kipling sweet goodies are ALWAYS good to eat. They arrive fresh and tasty and are packed to travel well. We will definitely order these scrumptdelicious lemon slices again. Thanks to you British Corner Shop
Mr. Kipling's Lemon layer slices are delicious as always. They are really soft, juicy and have the sour taste I was hoping for. They are potentially the best lemon slices I have ever tried and it is quite handy that every two slices are packed individually so that the others stay fresh. Unfortunately, though, the entire package is rather small.
I love anything Mr. Kipling, their cakes are always fresh tasting and fragrant even though they are packaged. Mr Kipling. Lemon Layer slices have a lovely fresh lemon fragrance and taste, a soft sponge, a delicious filling and icing. My only complaint with these, is that they are extremely small. They should actually be called lemon fingers. You will easily finish off one pack of these on your own with a cuppa. Over the years, this kind of product has become smaller by the minute. This is why I am only awarding three stars.
Mr.Kipling certainly do manufacture excellent baked goods. I have always like lemon flavoured cakes and love this version, it actually tastes better than mine with less effort. The only thing you need to add is a hot beverage. Should you be planning a dinner party this would certainly be a great choice to serve your gusts for dessert.
THESE ARE DIVINE! They are moist, delicious and one of the best lemon flavours I have found in a baked good. One of the items I truly miss from the UK, but so pleased I can get from BCS rather easily! I will be converting everyone here in the US as well!
Mr Kipling makes the best lemon slices without a doubt. (if it him that actually makes them that is).
These were always a regular in my shopping basket in the UK and I think they will start to appear when I shop through BCS too.
They are a moist cake with a delicious icing on top. They look and taste great.
Mr Kipling lemon slices taste absolutely heavenly, there are my new favorite cakes in the world. I make a nice fluffy lemon cake myself but never managed to make thick yet light icing as you can find on those cakes. They are also wrapped in individual packaging, making them ideal to bring to work with you and have for your break with a nice cup of tea.
Would you like to write a review for Mr Kipling Lemon Layer Slices 6 Pack?
You'll need to be registered and logged in to write a review.
Did you know that you could earn £0.30 in Reward Points for every Product review of 50 words or more that you write. Find out more.
Are you a Trade Customer?
Please get in touch if you are interested in pallet or container volumes of this product.
A member of our wholesale team will be in touch with you.
Enquire Now
Become a Supplier
British Corner Shop has partnered with the UK Government (DIT), to be an export platform for UK suppliers.
Make your food and drink products available internationally.
Enquire now