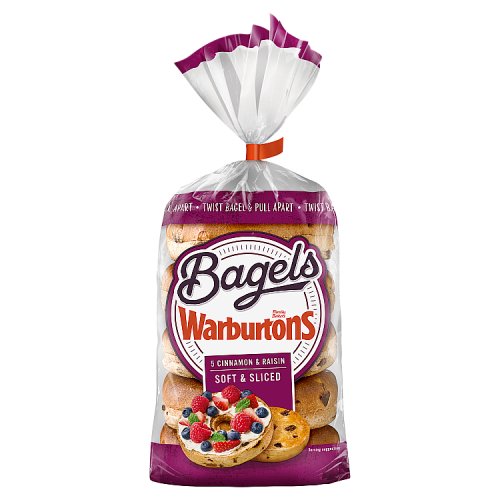 Short Life

5+

Days at dispatch
date
Warburtons 5 Cinnamon and Raisin Bagels
Product information
Introducing the ALL NEW Cinnamon and Raisin Bagels by Warburtons! This classic flavour combination means they smell and taste amazing just out the toaster.
Slather with butter for an easy breakfast or jazz it up with a little peanut butter and sliced banana!
One of our Warburtons branded products. This item typically has a short best before date of 5 days from time of dispatch.
Allergy Advice
Contains Soya, Contains Wheat.
Ingredients
Wheat Flour [with Calcium, Iron, Niacin (B3) and Thiamin (B1)], Water, Raisins (6%), Yeast, Sugar, Wheat Gluten, Dextrose, Maize, Cinnamon, Salt, Malted Wheat Flour, Rice Flour, Mixed Spice, Preservative: Calcium Propionate, Gelling Agent: E466, Acidity Regulator: Citric Acid, Soya Flour, Emulsifier: E472e, E481, Sunflower Oil, Flour Treatment Agents: Ascorbic Acid (Vitamin C), E920 (Vegetarian).
Lifestyle / Additives
Halal, Kosher, Suitable for Vegans, Suitable for Vegetarians.
Storage Instructions
Storage Type: Ambient.
To enjoy our baking at its best, store in a cool dry place - ideally not refrigerated. Warmer conditions will reduce the storage life. If freezing, freeze as soon as possible after purchase. For 'Best Before' date see bag closure or label.
Pack Type: Bag.
Product reviews
A perfect quick breakfast for me is nice toasted cinnamon and raisin bagel with some soft margarine spread lavishly for the ultimate experience. It is quick to make and perfect when you are on the go. A healthy breakfast with a decent amount of fiber to start your day. The bagels are enjoyed better when they are fresh prior to the best before date.
Was really impressed with this product and I never had the cinnamon and raisin bagel before but I was really pleased and enjoyed it toasted with a little bit of butter, delicious and tasty.
Would you like to write a review for Warburtons 5 Cinnamon and Raisin Bagels?
You'll need to be registered and logged in to write a review.
Did you know that you could earn £0.30 in Reward Points for every Product review of 50 words or more that you write. Find out more.
Are you a Trade Customer?
Please get in touch if you are interested in pallet or container volumes of this product.
A member of our wholesale team will be in touch with you.
Enquire Now
Award Winning Exporter
British Corner Shop are proud winners of the Queen's Award for International Trade, and Sunday Times Fast Track 100.
We are also a Waitrose official stockist.
More About Us