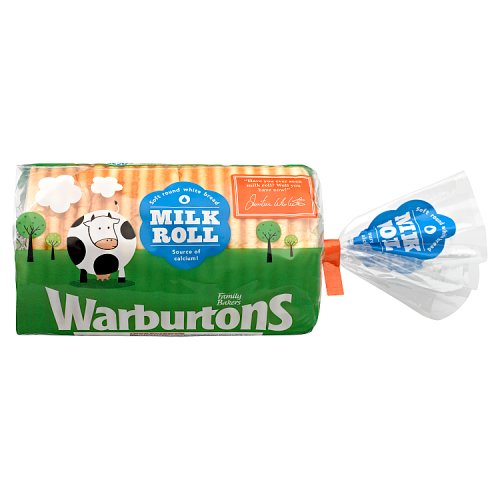 Short Life

4+

Days at dispatch
date
Warburtons Milk Roll White Bread
Product information
Warburtons Milk Roll White Bread is a favourite with families, especially those with very young children.
This super soft bread is full of calcium, vitamins and minerals – and it tastes great too! Try it toasted with loads of jam.
Most popular with customers in France, United States of America (USA), Italy, Germany, Sweden, Spain, Netherlands and Denmark, but you can buy Warburtons Milk Roll White Bread for delivery worldwide.
One of our Warburtons branded products. This item typically has a short best before date of 4 days from time of dispatch.
Allergy Advice
Contains Milk, Contains Soya, Contains Wheat.
Ingredients
Wheat Flour [with Calcium, Iron, Niacin (B3) and Thiamin (B1)], Water, Dried Skimmed Milk Powder (2%), Sweet Cream Salted Butter (from Milk) (1%), Yeast, Salt, Vegetable Oil (Rapeseed, Sustainable Palm), Soya Flour, Preservative: Calcium Propionate, Flour Treatment Agent: Ascorbic Acid (Vitamin C).
Lifestyle / Additives
Suitable for Vegetarians.
Storage Instructions
Storage Type: Ambient.
Store in a cool dry place, ideally not refrigerated. Under warm conditions storage life will be reduced. If freezing, freeze on day of purchase. For 'Best Before' date see bag closure or label.
Pack Type: Bag - Plastic.
Product reviews
Warburtons Milk Roll is definitely a winner and a product I'll be reordering. The bread is extremely soft and great for sandwiches. The taste of the bread alone is subtle but pleasant. The calorie content is low per slice and therefore great if you are watching your daily intake. My husband was particularly impressed and much preferred it to Warburtons toast bread, although nothing is going to stop me from ordering that, too! Finally, the Milk Roll also freezes well.
I love the different varieties of bread that Warburton's produce. The milk roll has to be one of my favourites for sandwiches, it's deliciously soft, and as the name suggests, a little milky. My son would only ever have these in his packed lunch, he loved the circular sandwiches!
Milk roll bread is usually associated with kids as it is a lot softer than normal bread.
Warburtons have simplified the packaging on this bread to appeal to the younger ones and probably tweaked the ingredients a little too.
It is a nice bread but I prefer something more substantial, even a Danish loaf for example.
Great thin slices for breakfast. The bread is a bit sweeter than "normal" bread - therefore delicious with chocolate spread or jams.
Would you like to write a review for Warburtons Milk Roll White Bread?
You'll need to be registered and logged in to write a review.
Did you know that you could earn £0.30 in Reward Points for every Product review of 50 words or more that you write. Find out more.
Are you a Trade Customer?
Please get in touch if you are interested in pallet or container volumes of this product.
A member of our wholesale team will be in touch with you.
Enquire Now
Award Winning Exporter
British Corner Shop are proud winners of the Queen's Award for International Trade, and Sunday Times Fast Track 100.
We are also a Waitrose official stockist.
More About Us